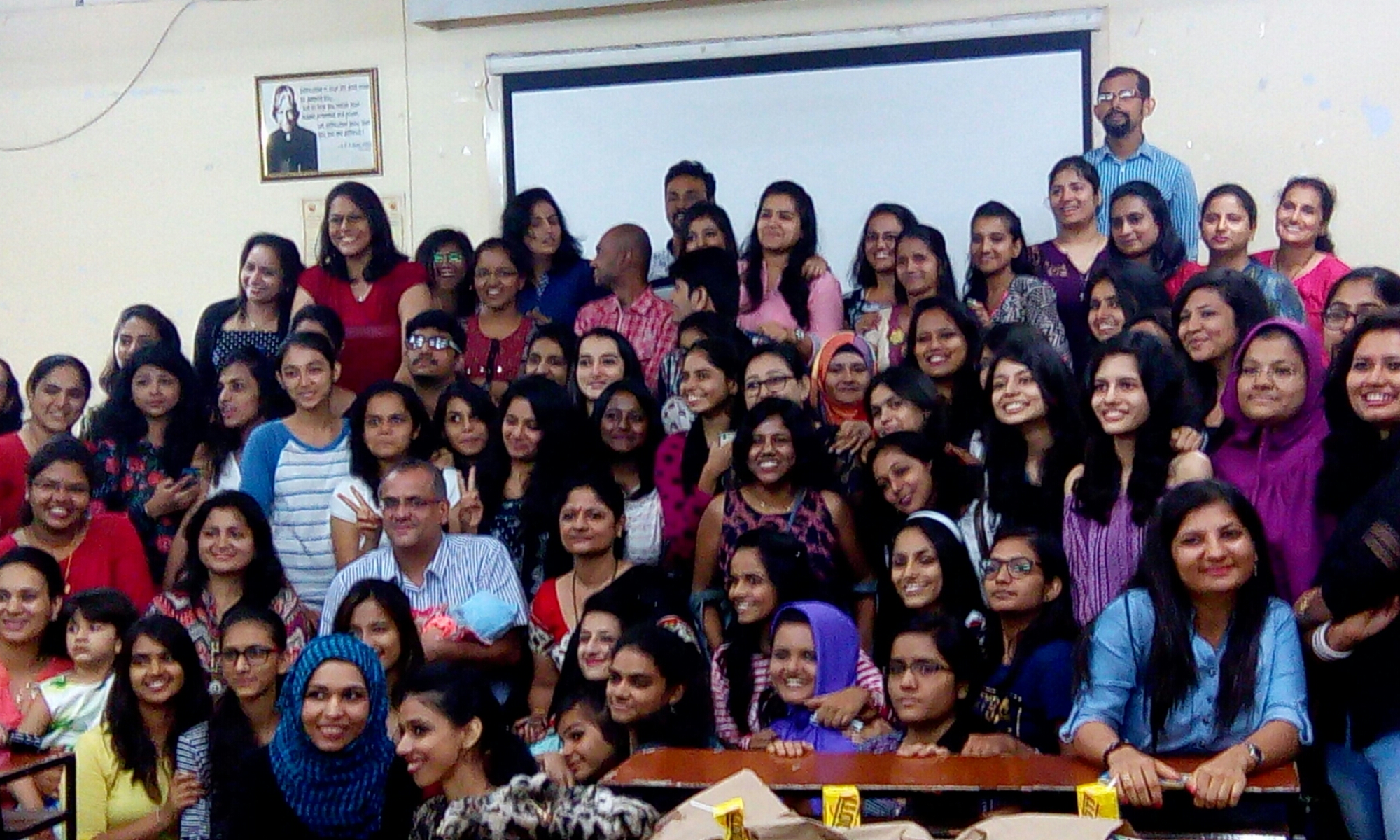 24th July 2016 – this was the day I waited for the most. And why shouldn't I ? After all it was our alumni day. The department had organized everything so well. Right from welcoming us to seeing us off 🙂
As soon as I got out of the elevator I got a warm welcome from Vinay Sir, who was all set to give me a warm hug 🙂 He walked us to the auditoriam. I never knew a single person there except for my best friend Brinda and Vidya Ma'am. Though people around were strangers, the place made me feel at home. The programme was arranged in room no. 35, the same class where I started my degree college journey. I remembered the 1st day 1st lecture and I was late as usual 🙂 it was Vidya Ma'am's lecture. 2nd lecture was Dongare Sir's lecture, I can never forget that lecture because my phone rang in between the lecture and Sir thought I was playing a prank on him so he confiscated my phone. Actually it was no prank my brother had messaged me to say eat something from the canteen as I had forgotten my tiffen at home. My mistake was just that I forgot to put my phone on silent. I was so timid by nature that I couldn't even imagine of playing pranks on anyone and especially on professors ? Hehe God save me 🙂
About Vidya Ma'am I must say she's a wonderful lady. She's calm and patient. She can handle any situation with calmness. Anyone who sees her will forget all his stress. You get so much of positive vibes from her. She has a calm look with a sweet smile; truly BEAUTIFUL and GORGEOUS. 🙂
Anyways coming back to the alumni, it was selfie time. Brinda and I took so many selfies together. About Brinda I don't know what all to say because if I start writing about us the blog will never end. 🙂 She's my best of best bestest friend. I know bestest is no word but our friendship too is unique. Right from 11th std. to 15th std. we were in the same class, same bench, we even bunked lectures together. I remember one of the professors saying "puri class ek taraf aur ye dono ladki log ek taraf". We even went to the washroom together hehe. After college also we used to spend hours chatting on the phone and everyone wondered what we had so much to talk about after spending the whole day together in college. Well I am not going to share what we had to talk about 🙂 Before every exam we spent half a day discussing on what to study. We have maintained our friendship even now 🙂

Well coming back to the alumni, the ceremony started with a short speech by our Principal Ma'am Ancy Jose. Later as every batch came forward to introduce themselves ; it was really amazing to see Vinay Sir remember so many incidents about each one of us.
Vinay Sir is a marvellous human being. He really makes every lecture lively. He is never limited to that boring classroom teachings and books. There is so many things beyond studies we learnt from him. Relationships, Life, Friendship etc etc.. he is someone with whom you can talk anything even the most filthiest stuffs 🙂
Only five people from our batch had attended the ceremony. Meghna, Nikita, Suchita, and of course Brinda and me. 🙂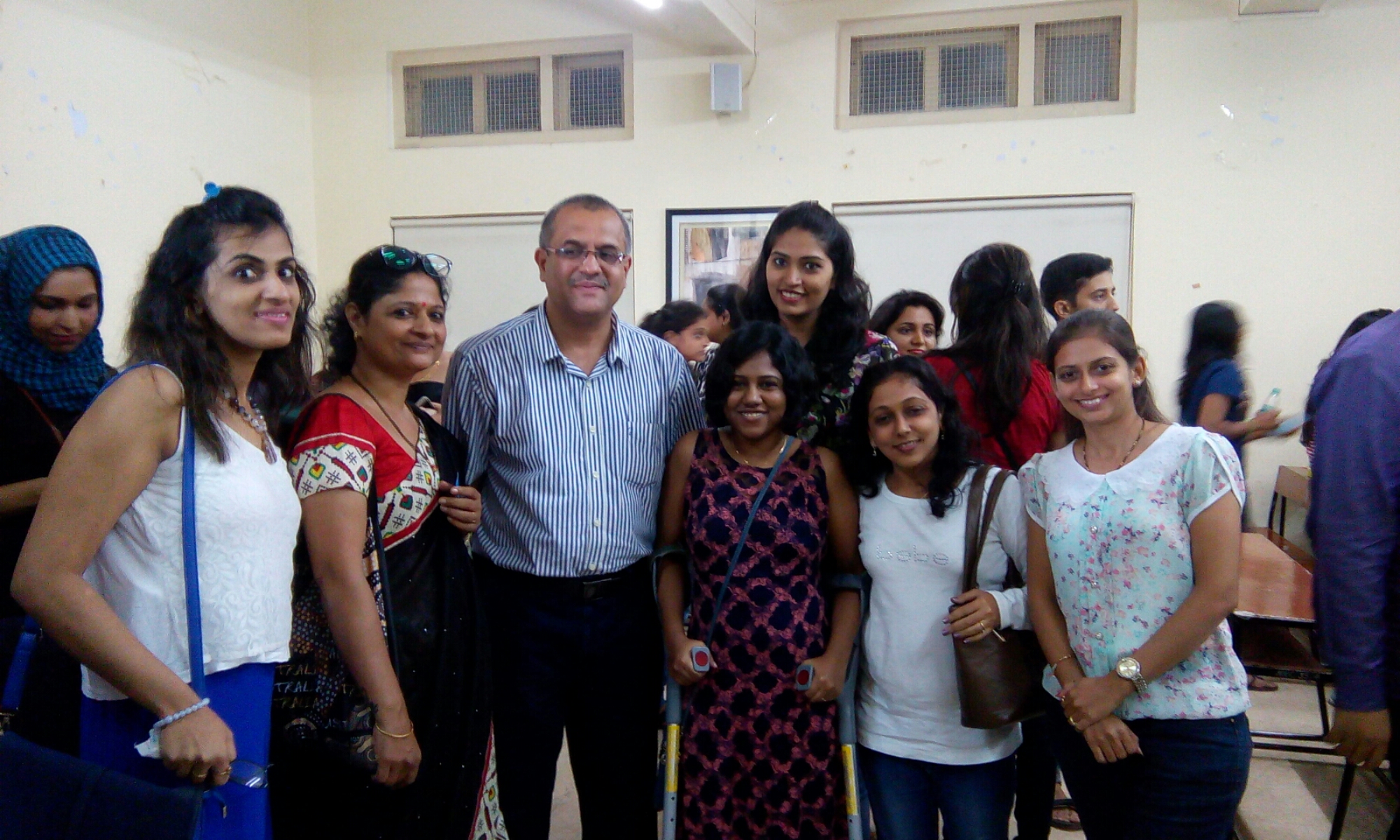 When Upasana enacted Vinay Sir, I remembered Jyoti enacting him during our free time to entertain us. 🙂
Our juniors did a wonderful job. Hitanshi Sharma and Sheela Mehta hosted the entire evernt for us. And must say they both were very entertaining. Hitanshi performed a solo dance for us. Prachi Salunke, Unma Jagodia and Kajal Tiwari sang a lovely group song for us. On demand Vaidehi sang a solo song for us. She really has a gifted voice. We can't thank these people enough. They put life into the whole event. God bless all of them 🙂
It was nice to see some of the ex students with their kids 🙂
Before leaving once I went to the dept. Room no. 41 🙂 As soon as I entered the room so many memories came running. It was like living life in a flashback mode. I remembered all the masti and dramas we did 🙂 This alumni really got back the best years of my life.
To conclude I just have one thing to say "NK COLLEGE PSYCHOLOGY DEPARTMENT ROCKS" 🙂 🙂 🙂