I was very excited about the recent IndiMeet. The theme for this meet was #QuakerBowl sponsored by PepsiCo to promote the importance of Quaker Oats. No matter whatever the theme is for the meet ups the reason to attend these meet ups is to meet new people. Every time I go to such events I get to know interesting things. Knowledge is one aspect about IndiMeet, the best part is the unforgettable memories you get from these meet ups.
It was a beautiful Sunday morning on the 10th April '16. I woke up all excited. Normally on Sundays I wake-up late however that day i woke up early, got ready posted a status on FB "all set for Indiblogger meet at JW Marriott Hotel". One more reason why I was excited about this meet was that it was at JW Marriott. Being a recruiter I used to recruit for Shalimar Hotel and some candidates used to ask me if I had any openings for JW Marriott ? And I in return asked them "kyun Shalimar me kya problem hai? They said "nai koi problem nai hai lekin JW Marriott mast hotel hai". So I thought "great… Today let's see what so special about JW Marriott".
We reached an hour early (we includes Alex – my brother and me). It was a nice hotel, nice place to hang around. It took us 15minutes to find the Ball Room. Once we reached the Ball Room, there were a couple of people already waiting for the registration. I sat there at the registration desk for some time. As people were entering they first looked around if they knew anybody. They hugged the ones they knew and just introduced themselves to the ones they didn't. I just knew 3 to 4 people there. My brother's friend Aditya who always is there in almost all events. He got a cup of coffee for me. It was such a luxury to drink coffee at JW Marriott 🙂
The auditorium opened at around 11.00 am, we all went in. Before every event starts Anup makes us do the usual exercise 'stand and do hurrrrrrrr hurrrrrrrr'. I knew there was a celebrity Chef gonna come but wasn't really that excited about it. However, when I saw Vikas Khanna I got all excited. My first reaction was 'WOW' 🙂 He looked good, well maintained, and girls going crazy about him. More than the talk we girls were interested in looking at him and taking selfies with him 😛 Though he was a celeb he was a nice person, down to earth. Above all he knew how to keep you awake during a talk. He was fun. He got off stage and involved himself with us. He stood amongst us and told us about the importance of Oats.
It was like a live Master Chef show where we had small contests like 'drink the soup and guess the ingredients', 'cook something out of the given ingredients'. There was an interactive session where he asked questions and we had to answer. Alex answered a question and won a Quaker Oats hamper.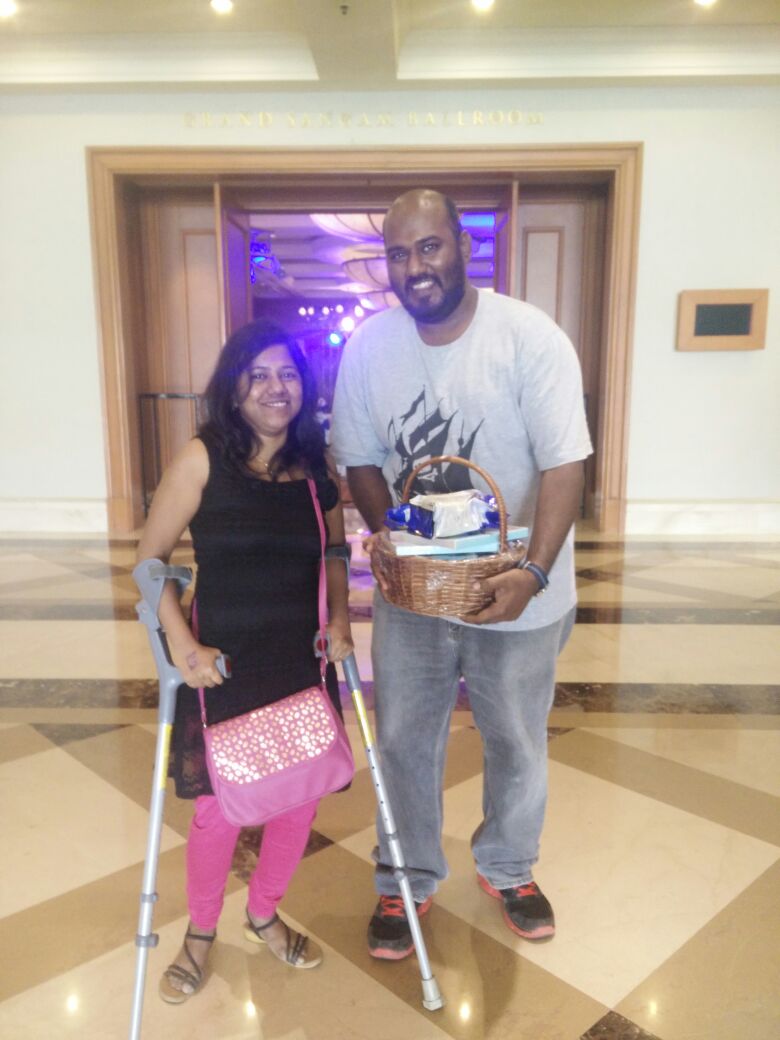 Alex was equally fun being with. He did live tweets regarding the event. He was nothing less than a celeb. Girls were coming and
talking to him. One girl even said that she finds him interesting and I was just sitting and observing how likeable he was. When I went to the washroom I found girls talking about him. I was feeling proud, he is my brother 🙂
We had the usual photograph session.
Then came the lunch time. Whether you like the event or not, you will definitely love the food. If you ask me, food was yum but desert was more yummy.
Inspired by Vikas Khanna I have decided to learn cooking now. My Mumma even tried a couple of recipes from the recipe book given to us at the end of the event. Now we eat only Oat items in breakfast 🙂
To conclude, I would say it was a lovely event full of fun and nutritious talk. As I have said earlier we get to know a lot of valuable information in these meet ups along with long lasting memories to cherish. For me I get to spend a quality time with my brother which we don't get quite often at home due to our busy schedules.
Looking forward to more such events 🙂