This winters reachout to Venusia Max Intensive Moisturizing Lotion. Venusia is a brand by Dr. Reddy's
Packaging – It comes in a white opaque plastic bottle with a pump. It has a stopper that makes it spill proof.
Texture – The lotion is milky white in color with a mild fragrance. It's neither too runny nor too thick in consistency.
Price – 899/- you may get it at a discounted rate that varies from 600/- to 800/- (it is expensive but totally worth the size and quantity which lasts for 8 months to a year).
Venusia is suitable for all skin type, especially sensitive skin.. It calms irritated and itchy skin. It soothes redness and rashes.  It hydrates your skin and keeps it supple throughout the day. It is non greasy and absorbs into the skin easily so it can be used even in summers.
It is Dermatologists recommended for people with extremely dry and acne prone skin. It is non comodogenic. Regular use may also reduce dark spots and controls body acne.
It's size makes it non travel friendly.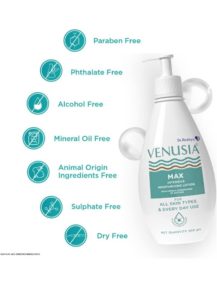 It has all the qualities one would want from a Moisturizing body lotion.
Ratings – 4.5/5