Hi there,
Here I am with another product review. This one's from the brand Plum Goodness, called Plum e-luminence deep moisturizing cream.
. Rich creamy formula that melts into the skin
. Heals, soothes & calms the skin
. Daily nourishment for dull and dry skin
About Plum :- juicy, bursting with natural goodness. fresh, bright, much loved. true, child-like, perhaps even naughty. take me as i am… no airs, no pretensions. that's me. i am plum
Product Description :- Rich day & night crème for 24-hour hydration. The hydrating power of vitamin E is boosted by a dozen potent plant nutrients, to provide unmatched hydration and nourishment to dry & damaged skin. The result: bouncy, hydrated skin that exudes a happy, dewy radiance. This rich day-and-night crème blends beautifully into skin. It is highly recommended for normal, dry and very dry skin.
Ingredients :- Vitamin E, Jojoba oil, Calendula flower extract, Red clover flower extract, Elder flower extract, Rose flower extract, White willow bark extract, Plant-derived betain, Kokum butter, Grapeseed oil, Sea buckthorn oil, Capric/Caprylic Triglyceride, Chamomile flower extract.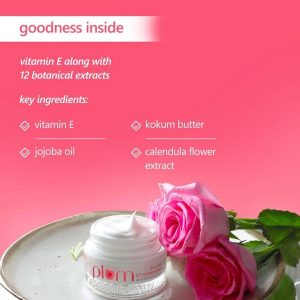 My Views on e-luminence cream :- The company's claims about the product are true. Yes, in fact, it is the best moisturisers I have used till now. I have used so many moisturisers and all of them left me with either very oily / dry skin or left a white cast behind. But this one (e.i e-luminence) is different from all. It gave me the results I always wished from my moisturizer.
I have a very unique skin type, which is sensitive and combination of dry and oily areas on my face e.i my forehead is usually half oiy and half dry, my cheeks and nose are oily but the edges are dry, area around the mouth are dry (chin, sides of the mouth, and upper lips) are dry. And the dry areas are usually the most sensitive. Products with oil control / oil balance left the dry areas with redness, dull, flaky, itchy skin. Products saying nourishment and moisturizing for dry skin left the oily areas extremely oily and led to acne and acne scars later. Some creams that I found okay too left a white cast behind.
The e-luminence deep moisturizing cream, not only hydrated the dry reas, but also provided nourishment to the oily areas. It gave a soothing calm relief to the dry areas. Every morning I wakeup to a hydrated and glowing skin. A skin that's not too oily or not too dry. My skin gets a little oily during the day, which is okay. Because now I don't mind my skin getting a little oily but I don't like my skin getting dry. Also this cream (e-luminence) has not led to any acne or breakout issues, does not leave any white cast behind post application. It absorbs into the skin perfectly within seconds.
With regular and consistent use for around 6 months now, I noticed my skin looks much more bouncy and glowing. Its more soft and supple. Overall I just love the glow on my face. Also I don't need re-application every 4-5 hours. I just apply it once post cleansing in th morning and once in the night post cleansing. It has a very mild fragrance which will not bother the sensitive noses. 
Things that I don't like about this is the packaging and price of the cream. It comes in a glass tub packaging which is not travel friendly. All plum products are quite expensive. However all products from Plum are #crueltyfree #vegan so the chances of any harmful effect on your skin is very less.
I don't recommend this cream to any particular type of skin person. I believe each one of us are unique with unique skin types. No matter what any skincare product claims, one should always go by the ingredients (especially the sensitive skin type and acne prone skin type). For e.g if a particular skincare product claims, for dry skin or sensitive skin, and you also read good reviews about the product but there could be one or more ingredients in the product, which you may be allergic to in particular, that may affect your skin badly.
Likewise, I found the e-luminence deep moisturizing cream the best for me, however it may not be the best for someone else.
I rate the e-luminence deep moisturizing cream 4.5/5 stars.