Here I am with another product review. This one's from the brand Plum Goodness, called Plum e-luminence deep moisturizing cream.
. Rich creamy formula that melts into the skin
. Heals, soothes & calms the skin
. Daily nourishment for dull and dry skin
About Plum :- juicy, bursting with natural goodness. fresh, bright, much loved. true, child-like, perhaps even naughty. take me as i am… no airs, no pretensions. that's me. i am plum
Product Description :- Rich day & night crème for 24-hour hydration. The hydrating power of vitamin E is boosted by a dozen potent plant nutrients, to provide unmatched hydration and nourishment to dry & damaged skin. The result: bouncy, hydrated skin that exudes a happy, dewy radiance. This rich day-and-night crème blends beautifully into skin. It is highly recommended for normal, dry and very dry skin.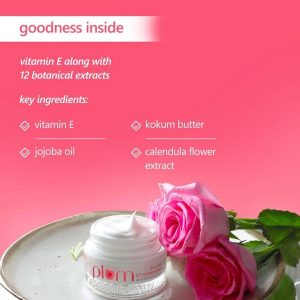 The company's claims about the product are true. Yes, in fact, it is the best moisturisers I have used till now. I have used so many moisturisers and all of them left me with either very oily / dry skin or left a white cast behind. But this one is different from all. It gave me the results I always wished from my moisturizer.
The e-luminence deep moisturizing cream, not only hydrates dry skin, but also provided nourishment to oily skin. Every mmorning you will wakeup to a hydrated and glowing skin. It does not leave any white cast behind post application. It absorbs into the skin perfectly within seconds.
Regular use makes your skin radiant.
It comes in a glass tub packaging which is not travel friendly. All plum products are quite expensive. However all products from Plum are #crueltyfree #vegan so the chances of any harmful effect on your skin is very less.
Ratings – 5/5