Hello everyone,
I am back with another Oriflame product review. Last time I had reviewed the blueberry an lavender face wash and had also mentioned about its toner and face cream. So here I am, today I am going to review the PURE NATURE ORGANIC BLUEBERRY AND LAvENDER EXTRACT CALMING TONER.
For who didn't see my last post I have uploaded the set of the blueberry and lavender products bellow
Starting the review with its packaging and price
PACKAGING AND PRICE- Of course it looks cute. It comes in a sturdy, transparent bottle, with a white cap. You can see its image bellow. Oriflame offers many discounts every month so the price of the products keeps fluctuating every now and then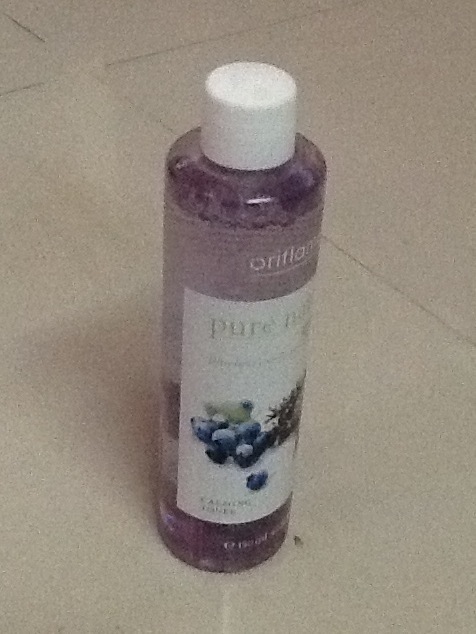 DIRECTIONS FOR USE- Apply it with the help of a cotton ball after each time you wash your face with a cleanser or a face wash.
INGREDIENTS – AQUA, PEG 40, HYDROGENATED CASTOR OIL, GLYCERIN, PHENOXYETHANOL, IMIDAZOLIDINYL UREA, PARFUM, PANTHENOL, SODIUM CITRATE, METHYLPARABEN, DISODIUM EDTA, PROPYLPARABEN, ETHYLPARABEN, LAVANDULA ANGUSTIFOLIA EXTRACT, LINALOOL, VACCINIUM MYRTILLUS EXTRACT, CITRIC ACID, SODIUM HYALURONATE, CI 17200 CI42090.
PROS
1) Travel friendly
2) Cute packaging
3) Good fragrance
4) 100% organic in nature
5) Doesn't cause any break outs or irritation to the skin.
6) Can be Used by all skin type people
CONS- If I start listing the cons, it would be a long list so I will sum up the cons in my summary. Here I will just list main cons of this product
1) It has parabens
2) Too many chemicals
SUMMARY – The main characteristic of a toner is to tighten the pores. Since I don't have any major problem about large pores, I can not tell you for sure if this toner tightens the pores or not. Coming to the other claims, oriflame says that the blueberry and lavender toner calms the skin, makes it soft and prepares the skin for the application of skin. I don't think this toner lives up to its claims. After applying the toner I don't get any calming feel. The skin feels a bit sticky after application. It makes the skin look dull, in fact the skin looks more radiant before applying it.
I would give this product 2 stars out of 5 just for the cute look and pleasant fragrance.
Cya lovely readers Ela would b back soon with her review on the blueberry and lavender cream.